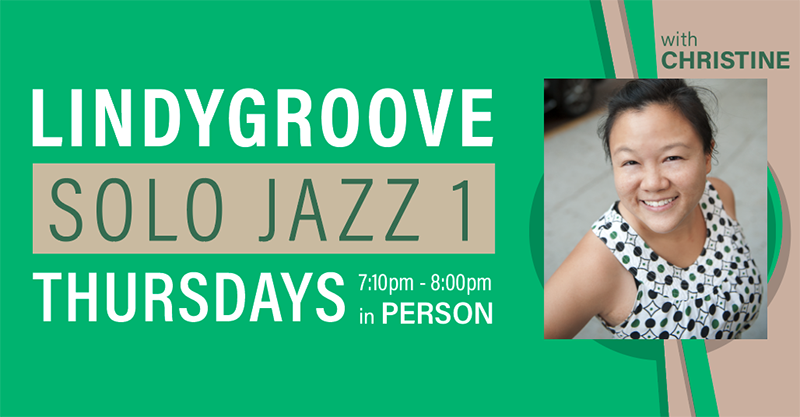 Solo Jazz 1 with Christine Nguyen
It goes by many names — Vernacular Jazz, Authentic Jazz, Vintage Jazz (or as the legendary Al Minns preferred: Basic Jazz). Whatever you call it, it's a blast! Feel comfortable in your body and build confidence in your solo movement. Along the way, we'll cover essential jazz vocabulary that will make your partner dancing more creative, and learning routines easier!

October's Topic: Charleston! The Charleston craze defined the Roaring Twenties, and still remains one of the world's most recognizable dances. Genius in its simplicity, it's an infectious rhythm that works with nearly any kind of music (don't believe us? Check out CardioGroove!) We'll cover basic 20s and 30s Charleston along with some fun moves like Hitchhikers and Scarecrows.
Solo Jazz -AND- Lindy 1 are Charleston-themed this month! Taking both classes is highly recommended to understand the dance from a solo and partnered perspective.
Prerequisites:
None. We start from scratch!
Class Format: Month-long progressive, starts the first Thursday of every month
Time & Place: 7:10 pm to 8:00 pm Thursdays in the main ballroom
Price: $60 per month (In 4 Thursday months or adjusted accordingly)
Includes DJed Practice until midnight. Swing practice starts at 9pm in the main ballroom.
No general admission. You must purchase series lessons to attend LindyGroove.
​No walk-ins. Must be purchased online the night before LindyGroove. (Wednesday 11:59pm)
Vaccination Required, Masks required, limited capacity
On your first visit show your vaccination card, photo ID and LindyGroove QR Code. Once we add your photo to your account you will check-in with only your QR code. Super speedy like a Disney Annual Pass!
Purchase at least 2 days before the first class (by Tuesday 11:59 PM) and save $5.
For a synergistic combination also take Lindy 1 at 8:10pm ;o) Just add both to your cart before checkout.
See all LindyGroove Lessons