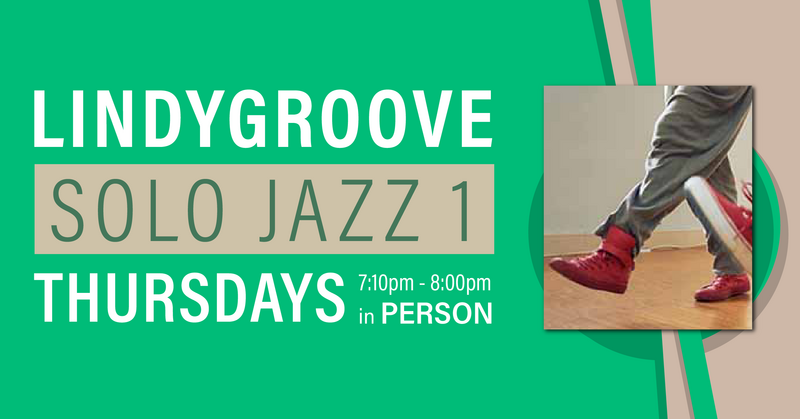 Solo Jazz 1 with Melissa Marzigliano
It goes by many names — Vernacular Jazz, Authentic Jazz, Vintage Jazz (or as the legendary Al Minns preferred: Basic Jazz). Whatever you call it, it's a blast! Feel comfortable in your body and build confidence in your solo movement. Along the way, we'll cover essential jazz vocabulary that will make your partner dancing more creative, and learning routines easier! Each month you will learn a new mini solo routine.and how to improv with your friends.
In January we learn Mama's Stew. You've seen it as one of our weekly warm ups! Now's your chance to master this short playful routine!
January Special! Start on 1/12/23 for only $45
Prerequisites: None. We start from scratch!
Class Format: Month-long progressive, starts the first Thursday of every month
Time & Place: 7:10 pm to 8:00 pm Thursdays at LindyGroove
Price: $60 per month (In 4 Thursday months or adjusted accordingly)
Includes DJed Dancing in two rooms 9pm - midnight.
​No walk-ins. Must be purchased online before Thursday. (Wednesday 11:59pm)
Purchase at least 2 days before the first class (by Tuesday 11:59 PM) and save $5.
Solo Jazz makes for a great synergistic combination with any of our other classes! ;o) Just add both to your cart before checkout.
Masks recommended, but not required. Vax required. Please review our COVID Policy before purchasing.
On your first visit show your vaccination card, photo ID and LindyGroove QR Code. Once we add your photo to your account you will check-in with only your QR code. Super speedy like a Disney Annual Pass!
See all LindyGroove Lessons