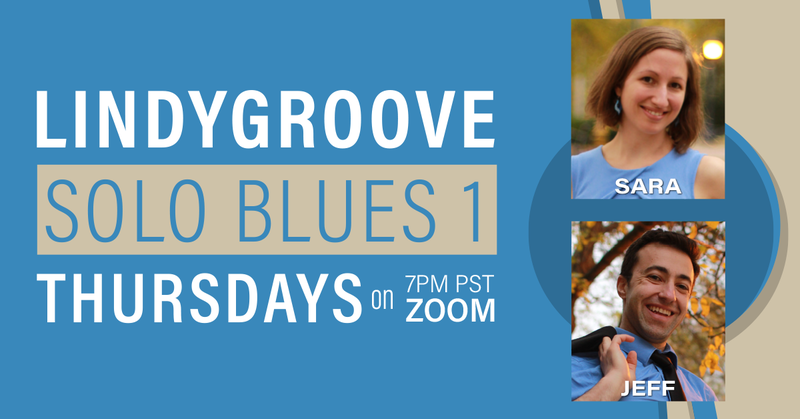 Solo blues 1 with Sara and Jeff

Pre-requisites:
None. We start from scratch!
Class Format:
An online Live Interactive Two Month Progressive, starts the first Thursday of alternate months. (Start in January, March, May, July, September or November) ) Students will learn a blues routine.
Time & Place:
7
:00 - 8:00pm Thursdays in an online Zoom meeting (We send you the link) We will open each meeting at 6:45 so you can get situated and mingle. After class hangout for a Q&A and to chat with your fellow students!
Price:
$40/month
Purchase at least 2 days before class and save $5.
Build basic blues movement vocabulary while developing your individual musicality and confidence in your movement.
Students will colaborate via Zoom to create a performance routine. At the end of two months students submit a video clip of themselves doing a part of the routine and we edit the clips into a "virtual performance" video. The fun is in collaborating with the group to create the choreography and the transitions from student to student in the video. The blues video will be similar to this example of one of our Routine class videos: You are welcome to take this class but opt out of the video. ;o)
See all LindyGroove Lessons