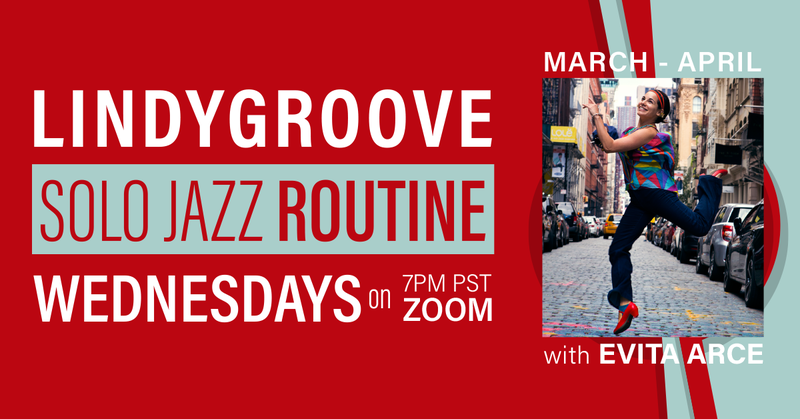 Solo Jazz Routine March-April with special guest instructor Evita Arce
This Solo Jazz Routine series is designed for intermediate and above dancers. Solo jazz skills are an integral component to lindy hop, musicality, and more! This class is progressive, meaning that the material builds on itself each week to maximize your learning. Students will collaborate via Zoom to create a performance routine, and at the end of two months, we compile student clips into a "virtual performance" video. Check one of our previous Routine class performance videos.
Weekly class recordings will be made available so that students in different time zones can still fully participate.
Prerequisites:
Intermediate level and above (or completion of Solo Jazz 1)
Class Format:
2-Month Progressive series, starts the first Wednesday every two months
(Start in January, March, May, July, September or November)
Time:
Wednesday at 7pm PST (Your Email receipt will say Thursday but class is Wednesday)
We start the meeting at 6:45pm PST so you can stretch with us ;o)
Place:
Online Zoom Meeting ​(The Zoom link is instantly emailed to you when you register)
Price:
$15/week for 2 months (you may purchase one month at a time)
Purchase at least 2 days before class and save $5.
See all LindyGroove Lessons