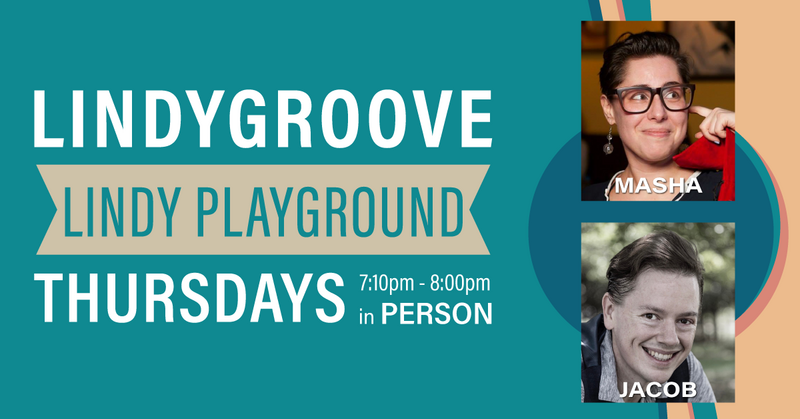 Lindy Playground with Masha & Jacob

Prerequisites:
6 months of Lindy 1 and many hours of social dancing.
Class Format:
Month-long progressive. Limited to 5 leads and 5 follows. Rotating TAs will help you feel these concepts.
Time & Place:
7:10 - 8:00pm Thursdays
in the side ballroom. Take this class along with Lindy 1.
Price:
$60 per month (In 4 Thursday months or adjusted accordingly)
This class has very limited capacity and we will be balancing Leads\Follows. If you are interested, please Email us.
Join us a we play with these elusive elements that bring pure joy to Lindy Hop.
Connection

Frame
Counterbalance
Momentum

Conversational dancing

Collaborative movement
Continuous 2 way connection
Dance where you are, not where you planned to be.
Call and response

Improvisation
Musicality
Playfulness
Steal dance technique
This supportive collaborative environment will bring your Lindy Hop to the next level!
Details
Includes DJed Dancing in two rooms 9pm - midnight.
​No walk-ins. Must be purchased online before Thursday. (Wednesday 11:59pm)
Purchase at least 2 days before the first class (by Tuesday 11:59 PM) and save $5.
Approved masks required. Vaccination required. On your first visit show your vaccination card, photo ID and LindyGroove QR Code. From then on you will only need you QR code
See all LindyGroove Lessons