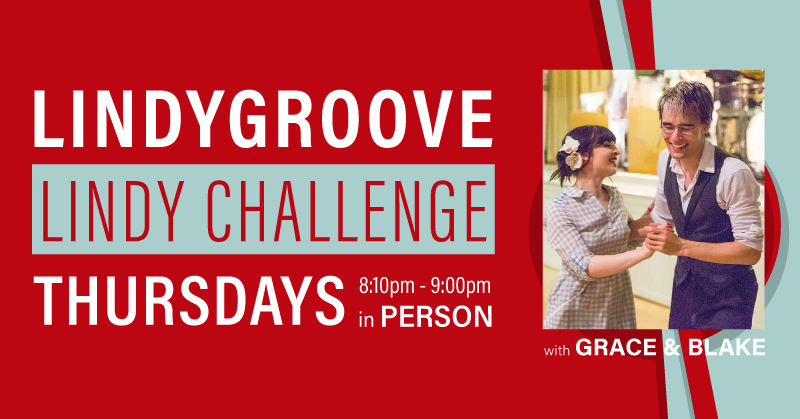 Lindy Challenge with Grace Babbes & Blake Thiessen
Each month we take a deep dive into the foundations of Lindy Hop, focusing on advanced technique, variations, and stylings. Lindy Hop has so many things to hone and play with. Our goals are to improve our technique, learn some new tricky variations, and discover your own unique style.
&nbsp
Prerequisites: At least 6 months of Lindy 1 -OR- Able to dance swingouts and swingout variations at 160 bpm. Subject to instructors' approval
Class Format: Month-long progressive, Start the first Thursday of any month.
Time & Place: 8:10 - 9:00pm Thursdays in the side ballroom.
Price: $60 per month (In 4 Thursday months or adjusted accordingly)
Includes DJed Practice until midnight. Swing practice starts at 9pm in the main ballroom.
No general admission. You must purchase series lessons to attend LindyGroove.
​No walk-ins. Must be purchased online the night before LindyGroove. (Wednesday 11:59pm)
Vaccination Required. Booster required if you are eligible. Masks required, rotation optional, limited capacity
On your first visit show your vaccination card, photo ID and LindyGroove QR Code. Once we add your photo to your account you will check-in with only your QR code. Super speedy like a Disney Annual Pass!
Purchase at least 2 days before the first class (by Tuesday 11:59 PM) and save $5.
Note: Those who have clocked in plenty of hours social dancing will get the most out of this class.
See all LindyGroove Lessons