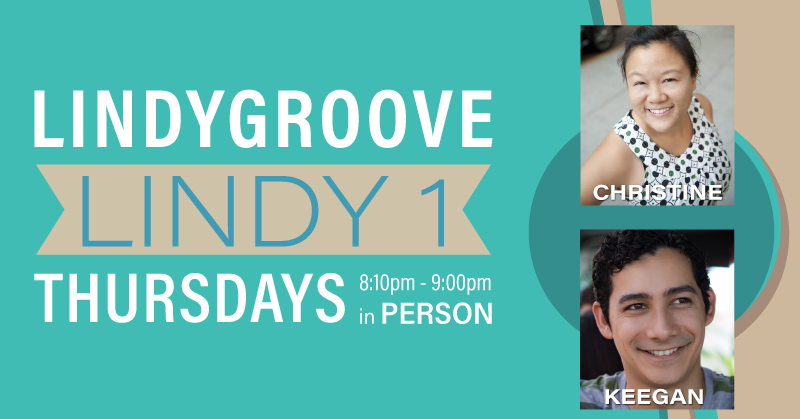 LINDY 1 with Christine Nguyen & Keegan Mullen
Learn the Lindy Hop "basic step" — the swingout — along with new steps and variations depending on the month's topic. For a complete Lindy 1 education, we recommend repeating Lindy 1 for at least 6 months in tandem with consistent social dance practice.
October's Topic: Charleston! Lindy Hop is a melting pot, and Charleston is one of the main ingredients. Learn both 20s and 30s partnered Charleston to add variety to your basics — especially when the music gets fast!
Solo Jazz -AND- Lindy 1 are Charleston-themed this month! Taking both classes is highly recommended to understand the dance from a solo and partnered perspective.
Prerequisites:
Pre-Lindy Crash Course
Class Format: Month-long progressive, instructors' choice of monthly topic. Start the first Thursday of any month
Time & Place: 8:10 - 9:00pm Thursdays in the Grand Ballroom (includes DJed practice* in 2 rooms 9:00pm until midnight)

Price: $60 per month (In 4 Thursday months or adjusted accordingly)
Includes DJed Practice 9pm - midnight.
No general admission. You must purchase series lessons to attend LindyGroove.
​No walk-ins. Must be purchased online before Thursday. (Wednesday 11:59pm)
Purchase at least 2 days before the first class (by Tuesday 11:59 PM) and save $5.
For a synergistic combination take Solo Jazz 1 at 7:10pm as your warmup for this class. ;o) Just add both to your cart before checkout.

Vaccination Required, Masks required, rotation optional, limited capacity
On your first visit show your vaccination card, photo ID and LindyGroove QR Code. Once we add your photo to your account you will check-in with only your QR code. Super speedy like a Disney Annual Pass!
See all LindyGroove Lessons