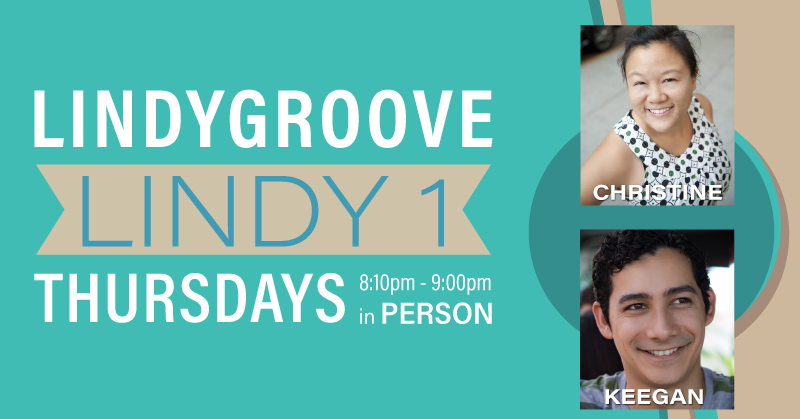 LINDY 1 with Christine Nguyen & Keegan Mullen
Whether you're shaking off the rust or brand new to partner dancing, we've got you covered! In this monthly progressive series, we'll work on the foundations of partnering as well as basic Lindy Hop footwork and patterns, including the iconic swing-out.

Prerequisites: None. We start from scratch!
Class Format: Month-long progressive, starts the first Thursday of every month
Time & Place: 8:10 - 9:00pm Thursdays in the Grand Ballroom (includes DJed practice* in 2 rooms 9:00pm until midnight)
Price: $60 per month (In 4 Thursday months or adjusted accordingly)
Includes DJed Practice until midnight. Swing practice starts at 9pm in the main ballroom.
No general admission. You must purchase series lessons to attend LindyGroove.
​No walk-ins. Must be purchased online the night before LindyGroove. (Wednesday 11:59pm)
Vaccination Required, Masks required, rotation optional, limited capacity
On your first visit show your vaccination card, photo ID and LindyGroove QR Code. Once we add your photo to your account you will check-in with only your QR code. Super speedy like a Disney Annual Pass!
Purchase at least 2 days before the first class (by Tuesday 11:59 PM) and save $5.
For a synergistic combination take Solo Jazz 1 at 7:10pm as your warmup for this class. ;o) Just add both to your cart before checkout.
See all LindyGroove Lessons